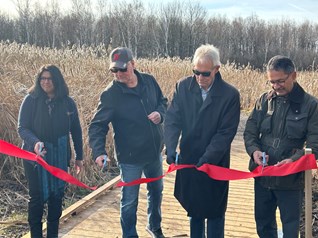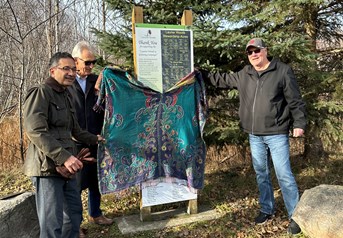 (North Bay, ON.  November 16, 2023)   It takes a village to care for our watershed, and on November 16, Friends of Laurier Woods and the North Bay-Mattawa Conservation Authority came together to thank donors, funders, volunteers, and community leaders who contributed to the two new boardwalks at the much-loved Laurier Woods Conservation Area.
"Laurier Woods Conservation Area is a natural preserve that is supported by the people of North Bay. The Friends of Laurier Woods (FLW), a registered charity, is able to raise funds through donations and funding programs. Most of the funds for the replacement of these two boardwalks was donated by individual residents of the city," said Fred Pinto, President of FLW. 
FLW and its donors contributed $31,800, NBMCA funded $22,430 and the Northern Ontario Heritage Fund Corporation granted $14,700 for the $68,930 project.
"Through NOHFC, our government is supporting Laurier Woods' new boardwalks to promote a higher quality of life for local residents," said Vic Fedeli, MPP for Nipissing. "We will continue to foster a strong future in our region by supporting economic growth and reaffirming the North as a great place to call home."
Besides the recreational benefits, Laurier Woods Conservation Area also provides multiple benefits to people and wildlife. It is made up of many different habitats, it a haven for migratory birds, and helps to prevent floods by storing water from snowmelt and storm events.
"The stewardship of our watershed is dependent upon collaboration and good relationships between government, community organizations, local businesses, and individuals.  These partnerships and shared commitment help protect the biodiversity of the wetlands and woods for residents, visitors and all the living things that call Laurier Woods home," said Dave Britton, NBMCA Chair.
The partnership between the FLW and NBMCA is unique and together they manage this 250 acres (100 ha) natural area.   Unpaid volunteers help repair trails, collect garbage, and trim back vegetation. Work that requires special training or equipment is done by NBMCA staff.
The Laurier Woods Conservation Area's trailhead is located at Brule St. just off Franklin St. in North Bay.
North Bay-Mattawa Conservation Authority is one of 36 Conservation Authorities in Ontario responsible for watershed management on behalf of local municipalities, stakeholders, and the province.
The public can follow: NBMCA on the web at nbmca.ca, Facebook (@theNBMCA), X  (@theNBMCA), and Instagram (nbmcainfo).  The Friends of Laurier Woods on https://www.laurierwoods.com/, Facebook (@friendsoflaurierwoods)
-30-
Media Contacts:
Friends of Laurier Woods:        Fred Pinto, President 705-825-1053
NBMCA:                                  Chitra Gowda, CAO 705-477-0372