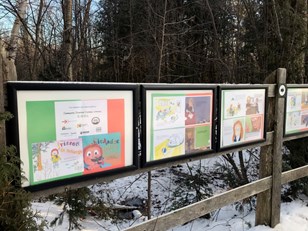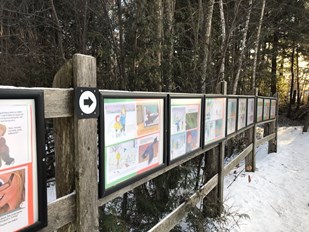 (North Bay, ON.  December 23, 2022)  As part of the North Bay-Mattawa Conservation Authority's 50th Anniversary, NBMCA is excited to announce the installation of a story hike on Laurentian Escarpment Conservation Area trails in partnership with COOL – Community Oriented Outdoor Literacy (COOL).
"COOL came together to provide an outdoor activity that requires no special equipment or fees.  We know that time in the outdoors is important, and that both physical literacy and reading are lifelong skills.  Time spent together is priceless, and families can access the story hike when on the Conservation Authority trails whenever it is convenient for them," said Connie Hergott, of the North Bay Mountain Bike Association, a member of the COOL committee.
The members of COOL who spearheaded the project include the North Bay Parry Sound District Health Unit, Northern Ontario School of Medicine, Nipissing University Library/Schulich School of Education, Near North District School Board, Les Compagnons des francs loisirs, and the North Bay Mountain Bike Association with the support of the North Bay-Mattawa Conservation Authority.
There is mounting evidence that time spent in nature has many benefits to well-being. The concept of a book outdoors provides a simple and fun way for families to read and reflect on the story together while enjoying a trail walk. Taking in some fresh air can improve our mental health, sharpen our cognition and helps to feel connected to our natural environment.
"The LECA trails are some of our most well-used, popular trails in the watershed.  To host the story hike featuring the children's book "That Chickadee Feeling" here on our trails brings together environmental education, outdoor appreciation, and family fitness.  We're proud to be part of this community-led initiative," said Chitra Gowda, NBMCA CAO. "The holidays are a great opportunity to get the whole family out to enjoy the trails and stop and read this great story!", she added.                                                   

The pages of the book are posted in English and French on 15 frames mounted along a fence on the McNutt Trail.   Directional signs are posted starting at the LECA trailhead at 15 Janey Ave. to guide people to the story hike. 
"That Chickadee Feeling", is based on the feeling a child gets when feeding a chickadee out of their hand.  It promotes a special bond with nature, parent and child.  Author Frank Glew and Illustrators the Marna Twins. 
Funding for this initiative was provided by Tara-Lynn Scheffel through her role as the Elizabeth Thorn Chair in Literacy at Nipissing University. 
North Bay-Mattawa Conservation Authority is one of 36 Conservation Authorities in Ontario responsible for watershed management on behalf of local municipalities, stakeholders, and the province.
The public can follow NBMCA on the web at nbmca.ca, Facebook (@theNBMCA) Twitter (@theNBMCA) and Instagram (nbmcainfo).
-30-
Contact:
Paula Loranger, Community Relations Coordinator
Cell:  705-494-5115
paula.loranger@nbmca.ca