Welcome to Chippewa Creek EcoPath!
Travel the 3.2 km EcoPath along Chippewa Creek in North Bay between Lake Nipissing and Thomson Park and you'll discover its rich history and ecological value through the educational signs along the way. 
As part of NBMCA's 50th Anniversary Initiatives, Chippewa Creek EcoPath is partnering with Clean Green Beautiful North Bay in a stewardship initiative that will help keep the trail and creek clean!  Clean Green Beautiful supports community and neighbourhood clean-ups, providing biodegradable bags to volunteers. Clean Green Beautiful focuses on bringing awareness of the health of environmental concerns in the community. Plants, earth, water and air quality and people! 
Volunteers can contact Clean Green Beautiful through their website, and sign-up as a part of the Chippewa Creek EcoPath clean-up team!   NBMCA is a proud supporter of Clean Green Beautiful!
Kids...watch for Benny the Burbot for fun facts! 

Learn more about the Chippewa Creek EcoPath by visiting www.chippewaecopath.ca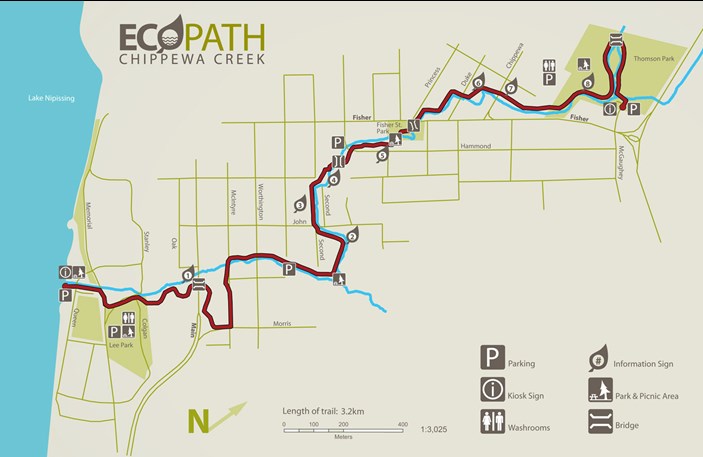 EcoPath Story
Nipissing Botanical Gardens and Heritage Gardeners planted a seed of an idea in 2004 – to identify, preserve and create green spaces with plantings and trees that could be grown and used for research, education and ornamental purposes. North Bay-Mattawa Conservation Authority and the City of North Bay were concerned about the erosion, flooding and pollution along Chippewa Creek and in 1978 began a series of improvement projects. In 2010, these four groups came together and approached RBC Blue Water Project for funding to marry their visions – a project that would incorporate plantings and trees to improve the water quality of the creek and develop a sustainable watershed education program to foster the ongoing stewardship of the creek. Thus the Chippewa Creek EcoPath was born!
Project Partners