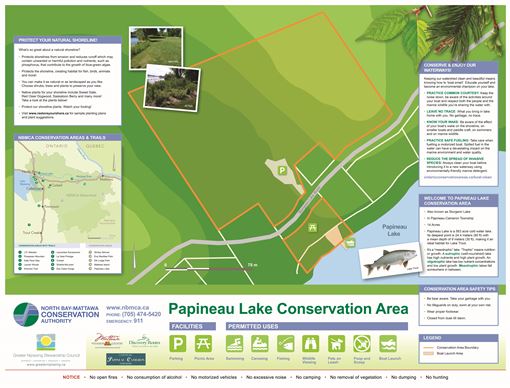 Visiting a Conservation Area?  Check out these Important Reminders.
A boat launching ramp and dock provide boaters and anglers with access to picturesque Papineau Lake, well-known with the locals for Lake Trout. Ontario Fishing Regulations for Fisheries Management Zone 11 gives the inside scoop on the season, size, and limits for your catch.  There is, however, no limit to the number of photographs you can take!  The 225.5 ha (557 acres) is just the right size to explore in a canoe or kayak.  You may just catch a glimpse of wildlife along the shoreline of this isolated lake.
No trails or washroom facilities.
Directions: Head east on Hwy17E from Mattawa to Papineau Lake Road, south of Hwy 17E.